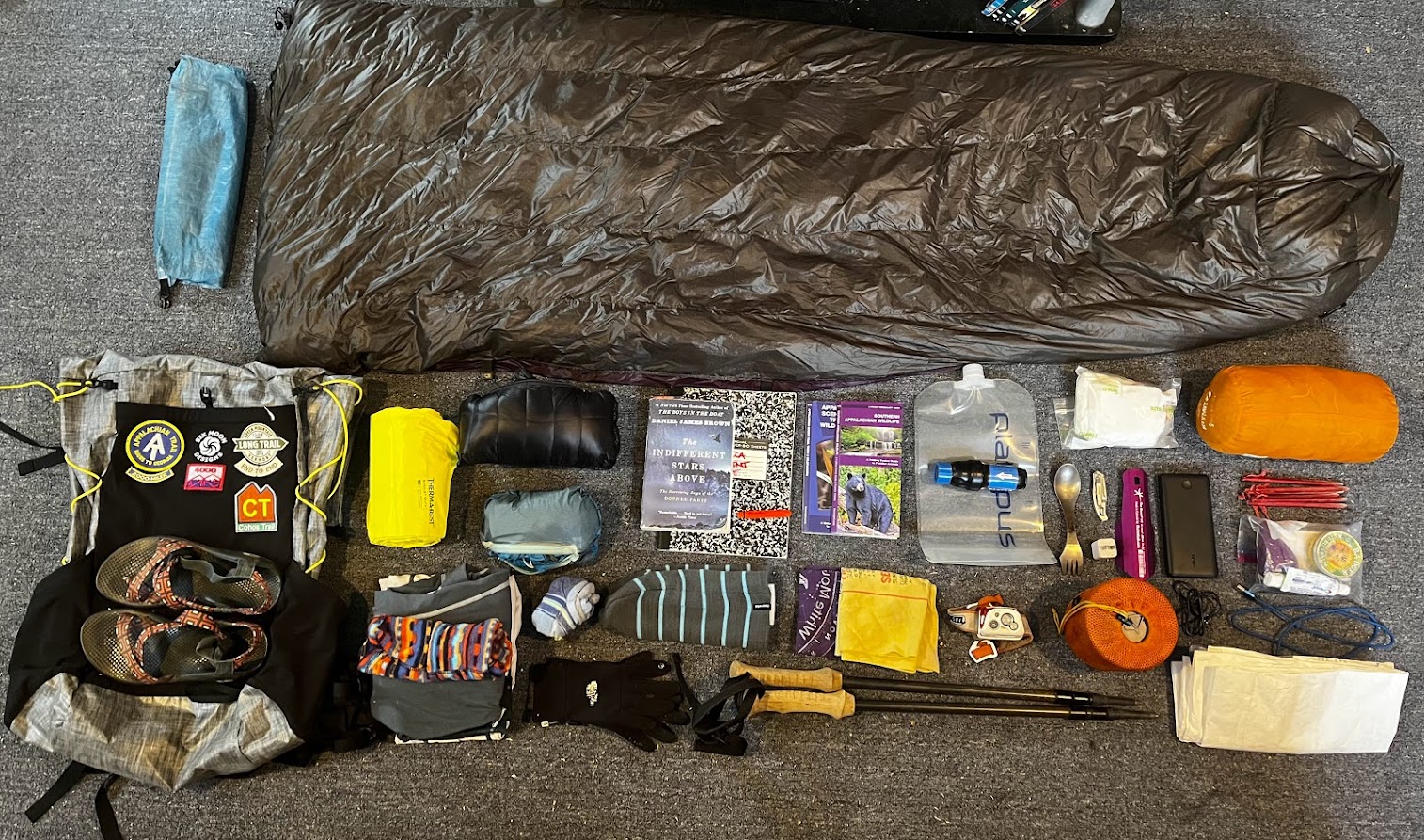 "Ok Google, find me 'yoga for stress.'"
A short 15-minute stretch helped me get my head back on my chores list, and off of how overwhelming it felt. So much to do and so little time. Yet, already today I had ticked off another few items. My dog sitter has been briefed, my laundry has completed its cycle, and I've finished the very last parts of my online course. The anxiety dissipates as I remember the things I've already crossed out. I've got this. Baby steps.
I'm finally able to turn my attention to something more relevant to this blog: the gear list.
Against all odds, I managed to find the time and the equipment to weigh everything in my pack. So if you're into that sort of thing, you can view my gear list here. Below is the general breakdown: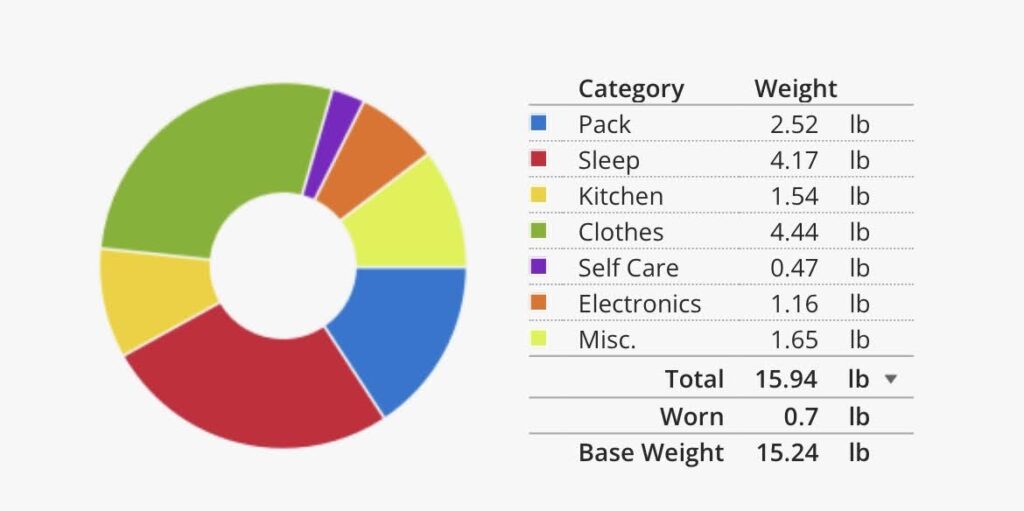 The Big Three
Pack: Six Moon Designs – Swift X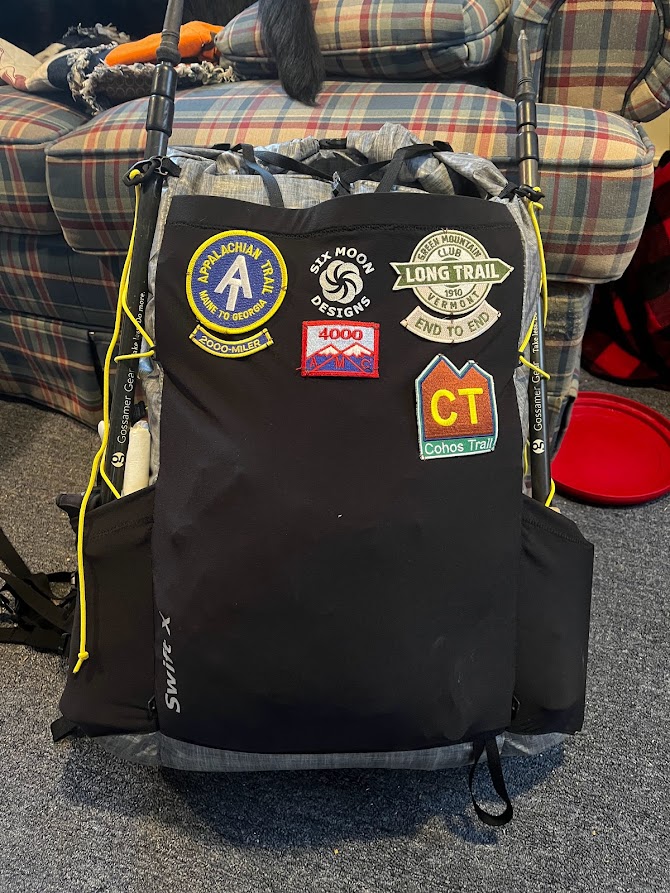 This pack was easily the biggest purchase I made for this hike. Do I have a pack that could work? Sure. Did I want to drop the cash for a better one anyways? Anytime. The thing that really sold it for me was the running vest harness. I mean come on, just think of all the snacks that you can fit into those pockets! Seriously though, this pack screams speed and ease and I enjoy both of those things. Although I'm not trying to be super speedy on this particular hike, it's nice to have the option to run if I feel good.
Tent: Six Moon Designs – Lunar Solo
Yet another SMD product, this tent provides a cost-effective alternative to ultralight non-freestanding tents. It uses silicone-coated polyester instead of DCF, putting it at roughly half the cost of that fancy ZPacks tent. It does carry a couple more ounces, but it packs down to about the size of a grapefruit and has TONS of interior space for one person.
Quilt – Enlightened Equipment Enigma 20
A tried and true gear item, the Enigma has kept me warm on many a chilly desert night. I have no doubt that it will continue to perform well in the more humid southeast spring. Why a quilt over a bag? I have both. The bag felt like overkill. The quilt weighs less and packs down significantly more than the bag. The extra few degrees of warmth couldn't compete with the weight/space savings.
Gear That Deserves Awards
I've had a lot of years to acquire a lot of gear, and some of it has a LOT of miles. If it works don't fix it right? I thought I'd take a moment to honor the most beat-up pieces of my kit that are still going anyway.
Most Well-Loved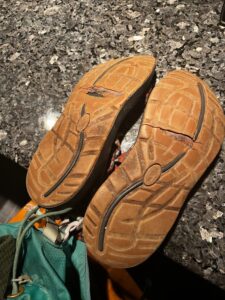 Camp shoes – Chacos Women's Z Sandals:
Not only have these sandals hiked every long trail I've ever done, but they've also joined me for every overnight hike, and two full rafting seasons. You can see below that they have virtually no tread left and are about to split in two. Nonetheless, I was not about to leave them behind. If they die on the BMT, at least they went out swinging.
Small but Mighty
Knife – Gerber Mini Paraframe Serrated Knife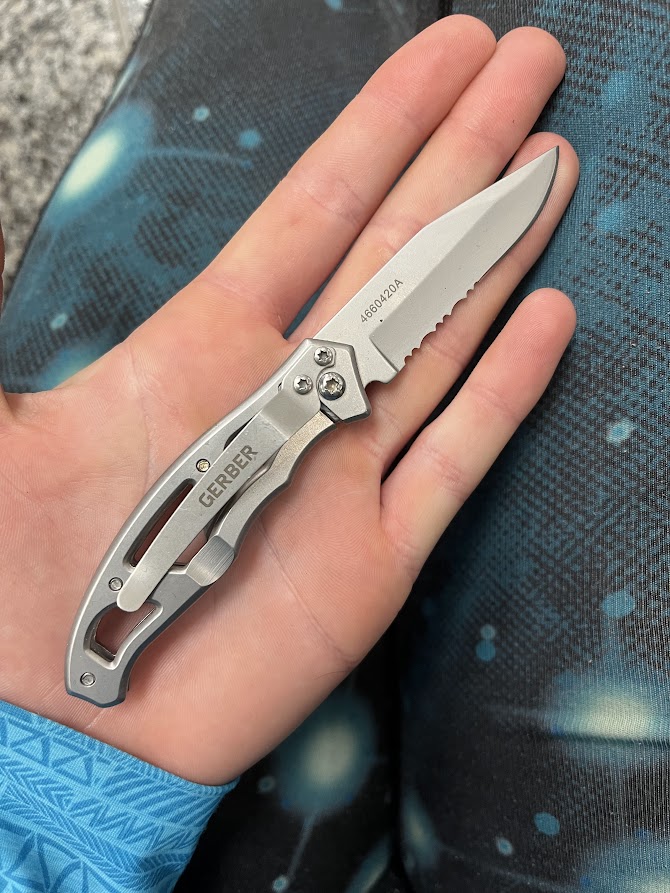 I have always thought that including a knife as one of the Ten Essentials is silly. I mean honestly, if I were in a survival situation, my tiny pocket knife isn't going to cut it for building a shelter, and just about everything else you could use it for could be replaced by something else. Nonetheless, I seem to buy a new knife every time I attempt a thru-hike. I know this probably says more about my ability to lose things that I don't find important, but I digress. This year's knife will probably be put to work exclusively for cutting cheese, but I guess it's good to have it handy anyway.
Coolest Modification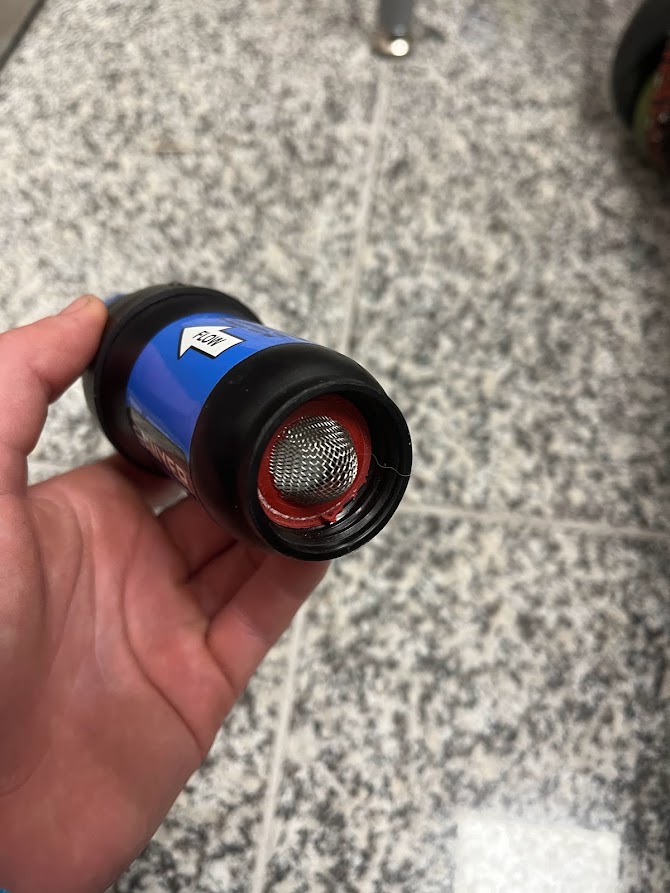 Since the day I set foot on the AT, I've been using the Sawyer Squeeze to filter my water (not the same one for five years though that would be gross). It's a great product, and its structure also lends itself to different modifications. Behold the Pre-filter! Now you don't need to worry about the big stuff backing up your filter in the middle of nowhere. The pre-filter takes care of that for you! Available at pretty much any hardware store near you.
Somehow I made it through packing for two separate trips, planning out care for the dog, and making sure all my own chores for the next month are taken care of. I've been so busy these past couple of weeks that I feel like I didn't have time to get excited, which seems unfair. Now that everything is set and ready to go, I'm really looking forward to having the space to get stoked about thru-hiking again.